THANK YOU FOR SUPPORTING THE
WORK AND PEOPLE OF MAF

Your donation will help to equip candidates on their journey to service with MAF.
Recently the dream of developing a new centre for training and equipping people for missions has started to become a reality. Based at Tauranga airport, the Kendon-Strong MAF Centre will be a hub for all of our work and ministry in the years to come. You can be an essential part of helping MAF New Zealand take a "bold step forward"!
ONLINE DONATION FORM

Please complete the following form to make your donation.
July 13, 2023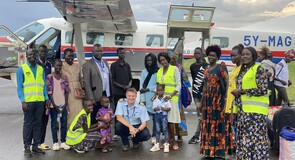 On Tuesday, 4 July, 16 refugees fleeing the conflict in Sudan arrived in Juba on a MAF flight from Renk organised by Citizens Call -Emergency Response Rehabilitation Initiative (ERRI). For Pilot Jonathon Pound, it was a 6-hour round flight battling weather on the outbound journey and the clock on th...
read more