THANK YOU FOR SUPPORTING THE
WORK AND PEOPLE OF MAF

Give a gift and help keep MAF planes flying!
The Kendon-Strong MAF Centre
ONLINE DONATION FORM

Please complete the following form to make your donation.
November 19, 2020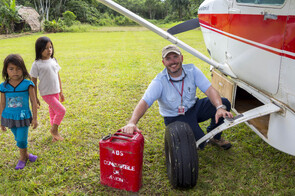 Despite the pandemic and all it's challenges, MAF's commitment to serving isolated people and communities hasn't wavered.A jerry can holds about 20 litres of fuel and by buying a $35 Jerrycan Christmas card, you will help keep our 130 planes flying. In 2020 MAF continued to partner with Aeri...
read more