THANK YOU FOR SUPPORTING THE
WORK AND PEOPLE OF MAF

Give a gift and help keep MAF planes flying!
GIVE A JERRYCAN OF JET FUEL THIS CHRISTMAS!
Each Jerrycan of Jet Fuel Christmas card you purchase helps bring the Christmas message to isolated people around the world! During the current pandemic, our flights are needed more than ever—and by giving the gift of a Jerrycan Christmas card could save a life! Don't give a gift that is broken by Boxing Day! Give one that reflects the true meaning of Christmas!
ONLINE DONATION FORM

Please complete the following form to make your donation.
November 9, 2021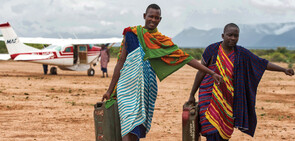 Despite the pandemic, our commitment to families and communities cut off from the life-saving resources they need has never wavered. In fact, our flights are now needed more than ever! By giving a Jerrycan Christmas card you will help MAF continue it's work in 30 countries around the world! In Tan...
read more