THANK YOU FOR SUPPORTING THE
WORK AND PEOPLE OF MAF

Give a gift and help keep MAF planes flying!
Closing the Loop in Timor-Leste
For most Timorese people, an emergency evacuation by MAF means leaving behind family and everything that's familiar. It is one of the most stressful experiences they will ever encounter. Most have never been on a plane before - or to Dili, the capital city, and certainly not while desperately sick. Will you help the MAF in Timor-Leste "close the loop" so the team can provide care and support through each step of this journey?
ONLINE DONATION FORM

Please complete the following form to make your donation.
June 17, 2022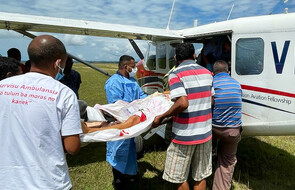 Closing the Loop is about walking alongside people, from the initial emergency evacuation, through the stressful stay among strangers in a hospital in an unfamiliar city to offering a fast, comfortable return home – in the same plane that flew them out. Closing the loop means being the Christ...
read more