THANK YOU FOR SUPPORTING THE
WORK AND PEOPLE OF MAF

All of MAF NZ Staff rely on the support of others
to keep doing what it is they have been called to do.
ONLINE DONATION FORM

Please complete the following form to make your donation.
OTHER WAYS TO DONATE
LEAVING A BEQUEST
OUR TERMS & CONDITIONS
CONTACT US
July 13, 2023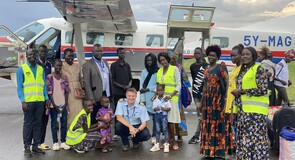 On Tuesday, 4 July, 16 refugees fleeing the conflict in Sudan arrived in Juba on a MAF flight from Renk organised by Citizens Call -Emergency Response Rehabilitation Initiative (ERRI). For Pilot Jonathon Pound, it was a 6-hour round flight battling weather on the outbound journey and the clock on th...
read more