THANK YOU FOR SUPPORTING THE
WORK AND PEOPLE OF MAF

All of MAF NZ Staff rely on the support of others
to keep doing what it is they have been called to do.
Today hundreds of individuals and families from around the world are putting their skills and dedication to work in the service of others on the front lines of mission in remote areas. All MAF NZ staff rely on the sponsorship of friends, family, church and others to keep doing what God has called them to do.
ONLINE DONATION FORM

Please complete the following form to make your donation.
OTHER WAYS TO DONATE
LEAVING A BEQUEST
OUR TERMS & CONDITIONS
CONTACT US
June 17, 2022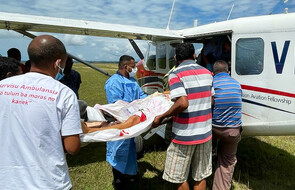 Closing the Loop is about walking alongside people, from the initial emergency evacuation, through the stressful stay among strangers in a hospital in an unfamiliar city to offering a fast, comfortable return home – in the same plane that flew them out. Closing the loop means being the Christ...
read more