THANK YOU FOR SUPPORTING THE
WORK AND PEOPLE OF MAF

All of MAF NZ Staff rely on the support of others
to keep doing what it is they have been called to do.
Today hundreds of individuals and families from around the world are putting their skills and dedication to work in the service of others on the front lines of mission in remote areas. All MAF NZ staff rely on the sponsorship of friends, family, church and others to keep doing what God has called them to do.
ONLINE DONATION FORM

Please complete the following form to make your donation.
OTHER WAYS TO DONATE
LEAVING A BEQUEST
OUR TERMS & CONDITIONS
CONTACT US
November 24, 2022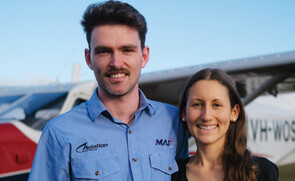 Sent from AustraliaMichael and Naomi have always felt God's call on their lives to serve Him. The Bible explicitly instructs all followers of Christ to reach out and help the marginalised and vulnerable and God has been working to prepare and enable them to do just that. As an aspiring second gen...
read more